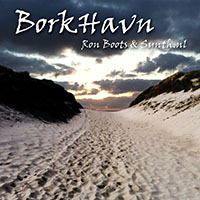 Released: Soon: somewhere in 2020, By Groove Unlimited
This is the second album by Ron Boots & Synth.NL. We have become very good friends over time. As you know we recorded our first album on a holiday trip and we repeated the process. This time we rented a house in Bork Havn in Denmark with our families. During the day we took some trips and in the evening Ron and Michel made music in the temporary studio they created in the house with equipment brought from their home studios. We are currently finishing up the album. More information will some soon. The album will be released before the end of 2020! The album will be released on CD and will also be for sale as a download album both in MP3 and FLAC format.
Please note samples will follow soon and will be only excerpts of the actual songs. The whole CD is over 60 minutes long and holds 9 tracks!
Soon for sale at:

Groove CD Shop (CD)
Groove Download Shop (FLAC)
Groove Download Shop (MP3)
Track info:
| Nr | Name | Length | Description |
| --- | --- | --- | --- |
| 1 | BorkHavn | ? | More info soon |
| 2 | Morgenfrisk | ? | |
| 3 | Nordsøen | ? | |
| 4 | Stjernekiggeri | ? | |
| 5 | Torden | ? | |
| 6 | Gåpåmod | ? | |
| 7 | Hjortebøf | ? | |
| 8 | Vindmøller | ? | |
| 8 | Venskab | ? | |