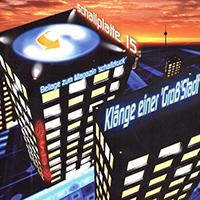 Released: Augustus 31th 2013, By Schallwende E.V.
This is a sampler CD published by the German Electronics Music Club called Schallwende EV. It is distributed to their members only. They made a CD this year where all member musicians could send in a track. A jury then selected 12 tracks from a lot of entries. So I am very happy that my track was selected. The theme for this album was word cities. I chose my favorite city London. More information in the track listing below.
This track will be re-released soon on the upcoming TimeTravel album.
Track info:
| Nr | Name | Length | Description |
| --- | --- | --- | --- |
| 1 | Underground | 04:38 | This is a track that I made especially for the SchallPlatte XV sampler CD that was made by the German Music Club Schallwende EV. This sampler CD is distributed as a promo to all the members and it not for sale. The theme of the CD was Word Cities and I made this track about my favorite city London. I used some sounds I sampled myself in the London Underground during one of our family visits. |