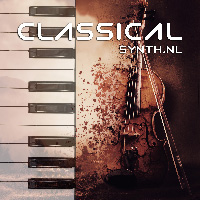 Coming: 2022//2023?, ?
I started working on a new project as well called 'Classical'. It will be a project for 2011/2012 maybe. The objective is to make a CD with Synth.nl versions of famous classical tracks from the old composers like Vivaldi, van Beethoven, Bach and Pachelbel.
For sale at:
Not released yet
Please note that these are covers. Not my own compositions!
Track info:
| Nr | Name | Length | Description |
| --- | --- | --- | --- |
| 1 | MoonLight | 5m25s | The classical piece of Beethoven called Moonlight Senato. |
| 2 | Canon | 4m50s | The classical piece of Pachelbel called Canon |
| 3 | Vera | 4m27s | The classical piece 'Primavera' from Vivaldi's Four Seasons. This is the Sping part. |
| 4 | Adagio | 4m53s | The classical piece of Bach |
| 5 | Inverno | 3m40s | The classical piece 'l Inverno' from Vivaldi's 'Four Seasons'. This is the Winter part. |
| 6 | Autunno | 4m57s | This is the Autum part from Vivaldi's Four Seasons. |
| 7 | Five | 4m21s | The classical piece of Beethoven called Fifth Symphony. |
| 8 | Albinoni | 5m43s | Soon |
| 9 | Presto | 3m39s | The classical piece of Vivaldi called 'l Estate' from the 'Four Seasons'. This is the Summer part. |
| 10 | Ciacona | 7m21s | Soon |
| 11 | Elise | 3m53s | The classical piece Fur Elise. |
| 12 | Claire | 4m23s | A classical piece called 'Claire de Lune' by Debussy. |