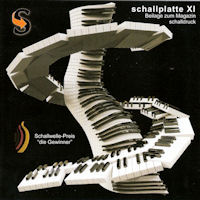 Released: August 29th 2009, By Schallwende E.V.
This is a sampler CD published by the German Electronics Music Club called Schallwende EV. They made a CD this year with all the winners and nominies for the Electronic Music price called SchallWelle that they organized last year. I was nominated in two categories, best newcomer and best CD. Unfortunately I didn't win either, but I'm still proud to be on this CD :)
This track is only a low quality mp3 sample. The CD holds only 1 track by Synth.nl

Not for sale:
 
This sample is just a low quality mp3 demo. The quality on the CD will be much better! This sampler CD has 10 tracks on it. It holds just one track by Synth.nl.
Track info:
| Nr | Name | Length | Description |
| --- | --- | --- | --- |
| 1 | SynthWelle | 04:51 | This is a track that I made especially for the SchallPlatte XI sampler CD that was made by the German Music Club Schallwende EV. On this CD are all the winners and nominees of the Schallwelle price they organised last year. The track doesn't really have a theme. I just played it because I liked it :) |