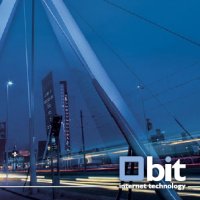 Released: October 2005, By BIT BV
The first project I did was the background music for a promotional video for a Dutch business ISP called BIT BV. The assignment was to make a high tech futuristic sounding atmosphere to underline the companies high tech character. The movie was done by a company called Lukkien. They made 5 short movies of about one minute and one compiled version of 5 minutes. For the short version I made two tracks of one minute. BIT selected the second track I made, because of the higher tempo. I made a long version of this one and a third track based on the same tempo to use in the long version. We ended up alternating the two tracks there. The first track I made is still used as waiting music on the PBX.
For sale at:
Not for sale
There is just one track by me on this CD.The demo track  in the player is just a sample. The quality on the CD will be much better!
Track info:
| Nr | Name | Length | Description |
| --- | --- | --- | --- |
| 1 | BIT1 | 1m12s | Short track made as an example for the BIT Movie project. This track was not used in the movie, but is used as waiting music on the PBX. |
| 2 | BIT2 | 2m46s | This track was made for the BIT Movie project. This track was used on the long version of the movie. |
| 3 | BIT3 | 2m38s | This track was made for the BIT Movie project. This track was used on the long version of the movie. |