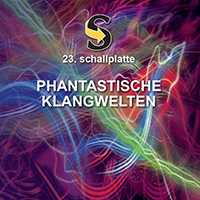 Released: December 22th 2020, By Schallwende E.V.
This is a sampler CD published by the German Electronics Music Club called Schallwende EV. It is distributed to their members only. They made a CD this year especially for their members because all concerts were cancelled due to Corona. Multiple artists could send tracks and they selected the best. So I am very happy that my track was selected. More information in the track list below. The CD is officially not for sale. If you want a copy I think you should become a member of Schallwende E.V. Groove Unlimited has a few copies. Be quick!
This track will be re-released soon on the upcoming TimeTravel album.

Track info:
| Nr | Name | Length | Description |
| --- | --- | --- | --- |
| 1 | Gemini | 5:39 | This track was inspired by the Gemini Space program that superseded the Apollo missions to the Moon. The Gemini project ran from 1964 en 1966 and was basically a dress rehearsal for Apollo. I didn't compose much new music since my Apollo album in 2011, so this track felt a bit like a dress rehearsal again for me too. Since the beginning of 2020 I finally have a small studio again in Rotterdam (NL) after having to sell everything because of my divorce. I'm currently working on several new solo projects, but this was the first track produced in my new and very small 'Jurassic' studio. I hope you like it. |