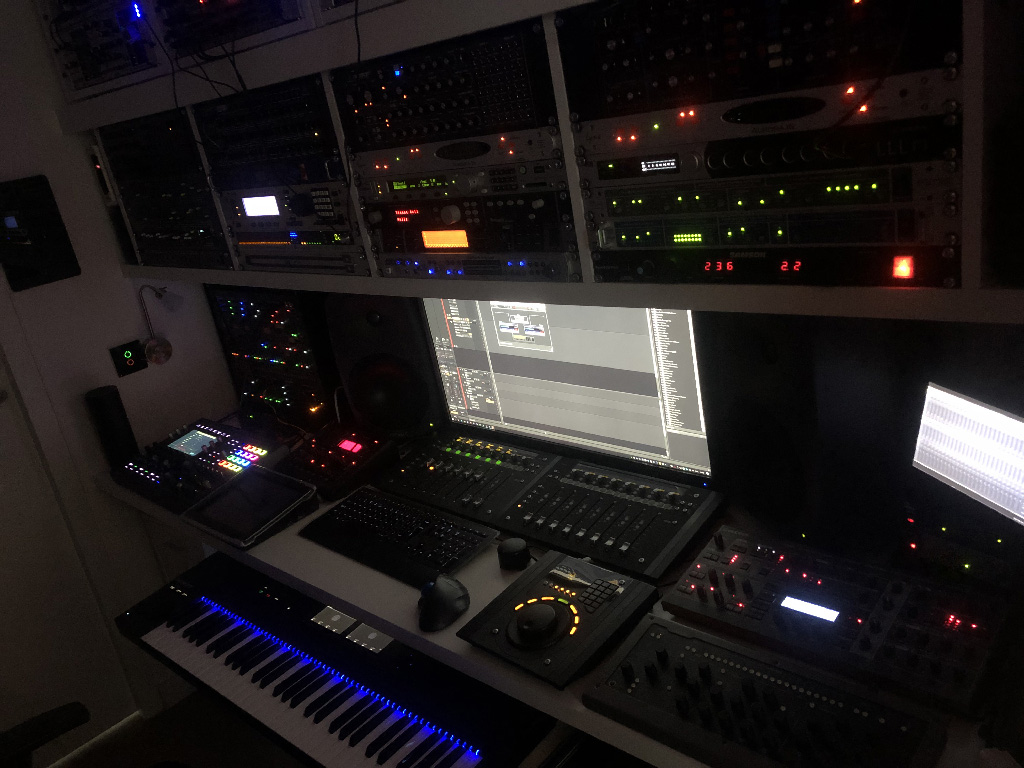 As you all know my old studio was gone because of the divorce. With the help of my good friend Ron Boots I was able to build a new studio again in our new apartment in Rotterdam where I live with my girlfriend Sonja. She didn't plan for me to move in so there isn't much room. The studio is actually 2 x 3 meters, but I'm very happy with it. Here is a small tour of my new studio. I managed to save some equipment from my old studio and bought some used and new stuff to start all over again. Here is a nice overview of my desk. I'm still using Cakewalk Sonar from Bandlad and a Native Instruments Komplete master keyboard. Since the studio isn't very wide I build in as compact as possible. Most stuff is modules and eurorack modular as you can see.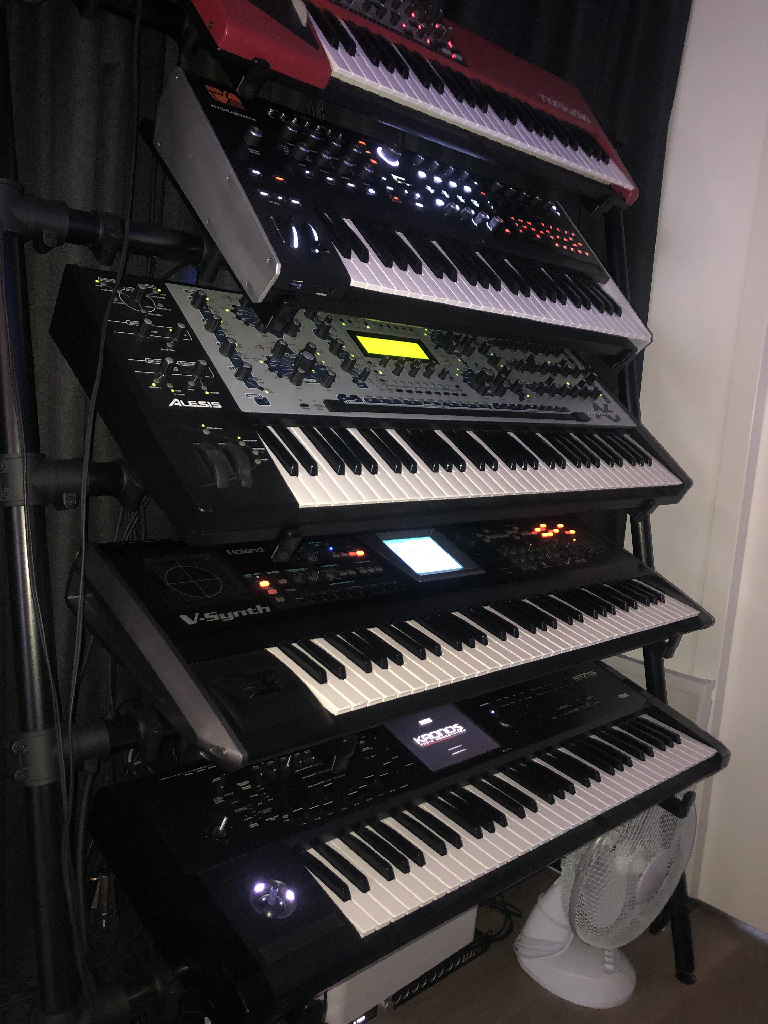 Behind me are some more synthesizers with keys. On top is the Nord Wave that I used a lot on the collaboration album together with Ron. So I had to keep that since there were still sound in there from that recording. Then there is a HydraSynth that I like a lot since it has a polyphonic after touch keyboard that also is nice to use with the Deckard's Dream I build. The the Alesis Andromeda, still one of the nicest synths to look at in my opinion and 16 voices of analog. The the Roland V-Synth. I used to have one of these in the past that I upgraded to a V-Synth GT later, but actually the old one sounds a lot better in my opinion. And of course it is cheaper as well. And last but not least the Korg Kronos. This one is also from the old Apollo studio since I used that on the album with Ron as well. Oh and by the way the new studio is called 'Jurassic Studio'. You will know by know I guess that I'm working on an album inspired by dinosaurs. Called PalaeonTology. Hopefully finished this year. I think I'm about at 50% on that now.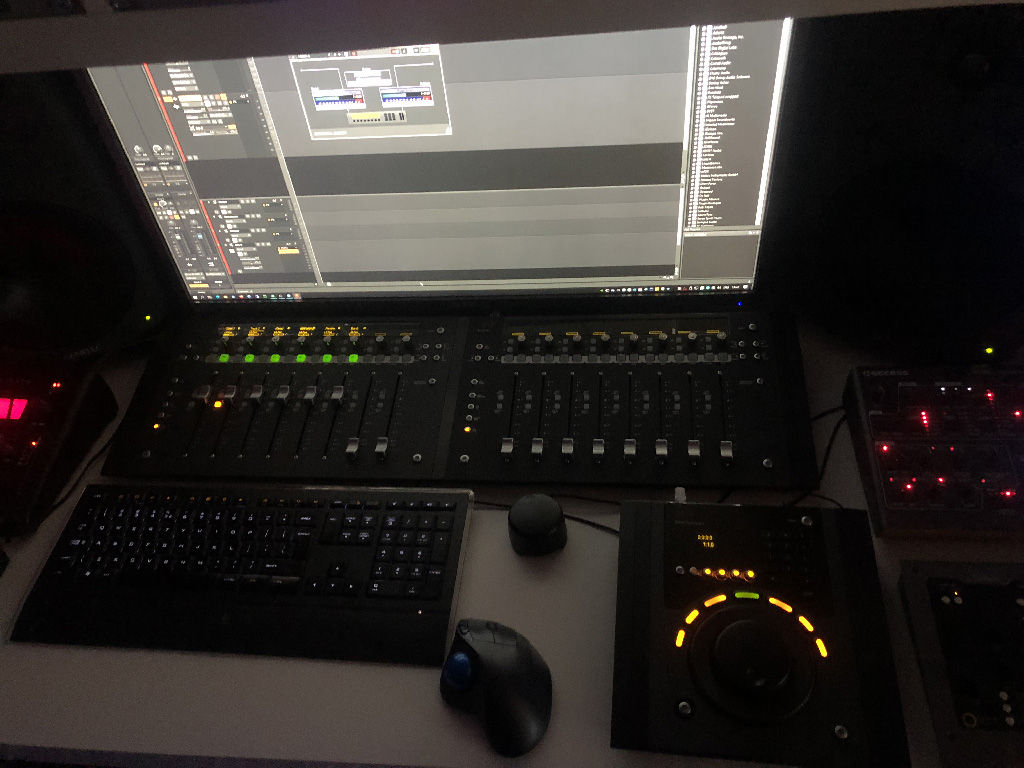 Here is a close-up view of my main tools. As you can see I'm a trackball person. I think that is way better than using a mouse. I also still have my Genelecs. I'm so used to this sound that I couldn't switch to other monitors only newer Genelecs. But the heart of my system if this (old) Euphonix/Avid Artist series set that I bought from E-bay. I really love it. It is connected by Ethernet and it integrates perfect with Cakewalk Sonar. I did have to do some customizing to use the Jog Shuttle. But even that runs very smoothly. I actually like this set better than the big Avid console I have in my old studio.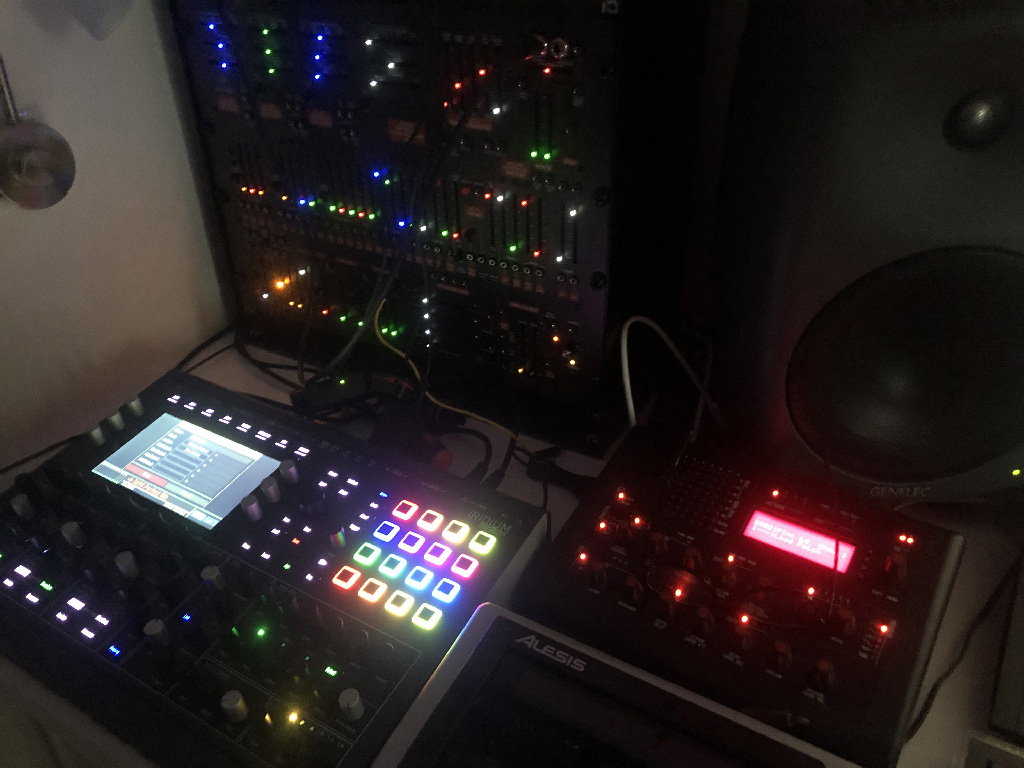 Here is a close-up of the left corner. Here are my newest additions. The Behringer ARP2600 to start with. I really love it. As you might know I did have a vintage ARP2600, but to be honest I like this one even better. Compact, more functionality and the sound is for be the same. On the right is a Midibox SID that I build myself back then. So also from the Apollo studio. C64 sounds all over. And finally the newest machine I bough the Waldorf Iridium. That is really a great synth with so much possibilities that I hardly don't even know where to start. But I'm sure you will be hearing a lot of it on my upcoming albums.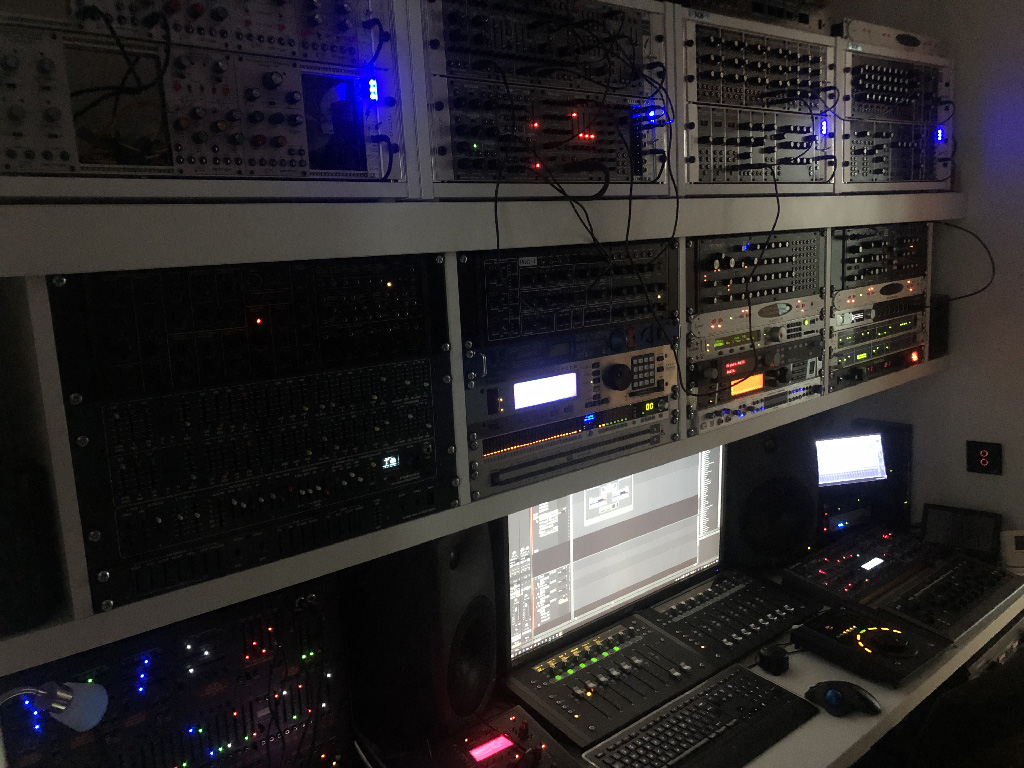 And lastly an overview of what is right in front (and above) of me. Yes a lot of Behringer in the new studio. I really love all their clones. They sound very authentic and no I'm not sponsored by them. If that was only true ;) On the bottom row there is the Deckards Dream with an K-2 , the Pro-1, Neutron and Model-D. And on the top row is some Eurorack stuff. First the new ARP2500 stuff. I think it is soooo great they released this. Then a case with the Roland System 100 modules and the last 2 cased are filled with the Moog Modules from the Sytem-55 series. All in all enough stuff for me to be creative again. And actually more than enough. I hope you like my new studio. It is not as impressive as my old one used to be. But I'm very happy with it and producing music again and that is the most important I guess ;)