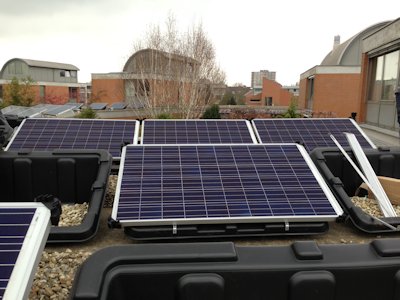 For all of you that always worry about the power that my studio uses. Even though it even isn't so much as many think. (the whole studio is on one 16 Amp fuse). But I have good news for you. The whole studio is solar powered now! I put 13 solar panels on the roof of our garage. They are 250 Watt Peak each so that is a total of 3250 Wp. It isn't even that sunny yet in The Netherlands but they are working hard already. 55 KWh in 3 days time. So from now on my music is totally CO2 free!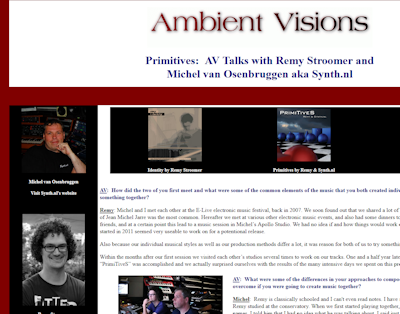 Remy and myself were recently asked to do an interview with Ambient Visions about our collaboration on PrimiTiveS. We gladly accepted this of course. Remy and I both answered half the questions and it is all about how we met and how the album evolved. I think it is an interesting read. So if you are interested you can find the whole interview on this URL:

http://www.ambientvisions.com/primitives.htm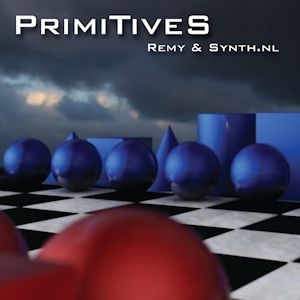 First of all my apologies that it took so long to write this message. I have been very busy with work the last few days. But here is the good news:

PrimiTiveS was finally released on CD on the 6th of April! It was released during the E-day festival organised by our record label Groove Unlimited. So after 1,5 years of work it is finally there! Both Remy and myself are extremely satisfied with the end result. I think the music is a good mix between Remy's music and my music, but we both would never have made this on our own.

You can read a bit more on the album and listen to some samples on my website. The samples are just short fragments. Everybody agrees so far that the CD is much better than the samples :)

You can order the CD from these places:

http://www.groove.nl/jump2.php?artiest=synth.nl
http://www.desertedislandmusic.nl/

It will be available later on more places like CDBaby.com as are my other albums and it will also be available later as digital download in both MP3 and FLAC format. This can all take a while though. I will let you know when this happens.

The first reviews are also in already. You can read them here:

http://www.synth.nl/reviews-primitives/blog (don't forget to press 'Read More') on them. So far the reactions and reviews are very very positive :) We are both very proud of course!

Last week Bruce Gall of Sunday Synth did a 2 hour special on the album including an interview with myself about the creation of the album. I got permission to put it online in case you missed it. It will be an opportunity to listen to most of the music of the album as well. I will put that online soon and let you know.

So don't wait and order your copy now. You won't regret it :) Please let me know if you need any assistance in acquiring the album from your country. Thanks for your support!

I hope you will have as much fun listening to the album as we had creating it.

You can find more info here: http://www.synth.nl/primitives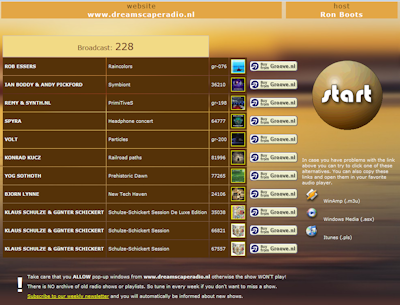 Here is the first chance for you to listen to a track from the upcoming PrimiTiveS album of Remy & Synth.nl. Ron Boots plays a part of the openingstrack from the album on his weekly Dreamscape Radio. The track is called 'Underground Tubes' and it slowly warms you up for the rest of the album. (we hope). The whole track is 12 minutes and 18 second long. I hope you like it. You can listen Dreamscape Radio on this URL: http://www.dreamscaperadio.nl/. The show will be online for a week so be quick to listen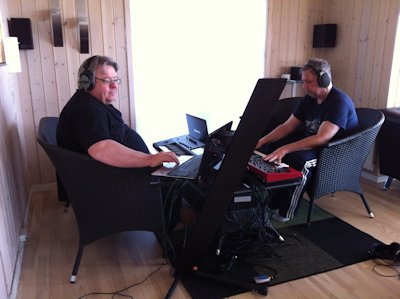 While I'm very busy together with Remy Stroomer to promote our new collaboration album I have more exciting collaboration news. Last year we spend a weeks holiday again together with Ron Boots and his family in BorkHavn, Denmark. And YES we brought our synthesizers along with us again! We made a lot of new music there and decided that we will release this music on a new collaboration album. We still have a lot of work on this album, but the plan is to start working on this right after E-day. We already selected the best pieces that will go on the album. I'm really looking forward to another release together with Ron Boots. More news will follow later this year.