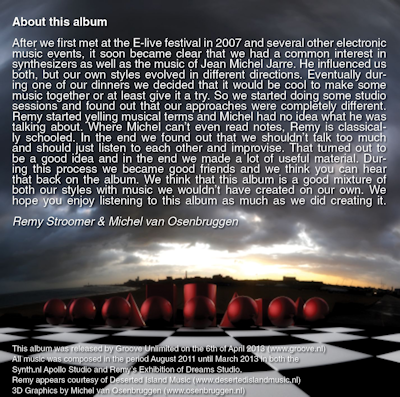 I have a quick update on PrimiTiveS for you: Everything is done for PrimiTiveS. Wouter Bessels has done an excellent job on the mastering and everything is of now to the mastering plant. I also send out the first album previews to some radio stations and the reactions are very positive. I already got 4 interview request from that, so keep posted for news on those. I also replaced the sneak preview clips I uploaded last week with the final mastered version. You can find them on the usual URL's: http://www.synth.nl/primitives and https://soundcloud.com/synthnl. of course this is only mp3 quality so the actual CD will be much better. More good news is that E-day goes on for sure! Enough tickets are sold now so you can definitely pick up your copy on Remy's stall on E-day 2013 on the 6th of April in Oirschot in The Netherlands. More info http://www.e-live.nl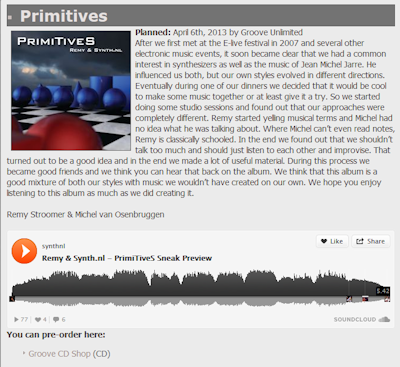 I promised to get back to you when I had some sound clips. I have put together a short mix with sound clips from the first masters I got back of all the tracks of the PrimiTiveS album together with Remy Stroomer. The mastering process is not complete yet, but this will give you a good idea of the music and the overall sound of the album. You can listen to them on both my SoundCloud page or on my own website. Here are the URL's:
https://soundcloud.com/synthnl + http://www.synth.nl/primitives
I hope you like them.

The release of PrimiTiveS was planned on the yearly E-day festival that my record label Groove Unlimited organizes every year. Unfortunately the ticket sales are very bad and the event maybe cancelled :( That would be a real bummer and mean no release party for PrimiTiveS either and possible the end for the festival definately :( So PLEASE PLEASE PLEASE buy a ticket and come and pick your copy up at the E-day festival in Oirschot in The Netherlands on the 6th of April. Remy and I will both be present and sign it for you if you like. E-day is a great festival with concerts all day a lot of artists present and a great atmosphere. Go buy your ticket here NOW PLEASE! http://www.e-live.nl Let me know if you need any assistance.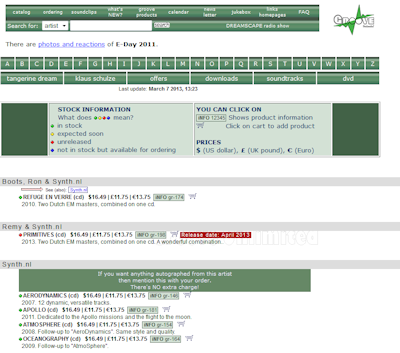 Remy and myself finished our work on our PrimiTiveS album. Wouter is very busy now for us doing his mastering art. We can hardly wait for the final release on the 6th of April. In the mean time Groove Unlimited is already preparing the release as well. From now on you can already pre-order the album from the Groove Unlimited CD shop. If you want to get it as one of the first I would say go to the website an order your copy. We will have audio clips available very soon, but I guess when you like Remy's and Synth.nl music you don't have to wait for that ;) You can pre-order your copy on this URL: http://www.groove.nl/jump2.php?artiest=synth.nl. If you want to be sure you can also get your copy first hand on the E-day festival on the 6th of april in Oirschot in the Netherlands. There are still tickets available. More information on http://www.e-live.nl/. More information soon!
I made a little animation of the artwork for the upcoming collaboration album together with Remy Stroomer. This animation and all the artwork was made in Cinema 4D.